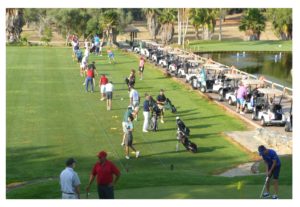 Held at Santa Clara Golf Marbella on June the 23(rd), the fourth leg of the Andalucía Golf Challenge Destination "Riviera Maya Golf Club Bahia Principe" in Mexico amateur circuit matched the first three as a resounding success. Those who were fortunate enough to tee up in the event enjoyed a wonderful day's golf's on an outstanding course – and excellent weather conditions.
The top five finishers in each category won places in the grand final of the circuit with a chance to opt for one of five trips to Riviera Maya that includes flights, hotel accommodation (in Riviera Maya Bahia Principe Resort) and golf at three extraordinary courses in the Mexican Caribbean: Riviera Maya Golf Club, El Camaleón Mayakoba (a US PGA Tour tournament venue) and Paradise Beach.
In addition to this extraordinary experience, Alejandro Hermann particpated as well giving away a painting of his own collection in a raffle held amongst the tournament participants. The choosen painting for this amusing chance was "PICTOGRAMA 31" (2017) made with Chinese ink on paper (56 x 71 cm):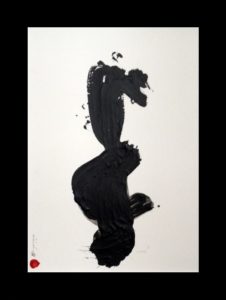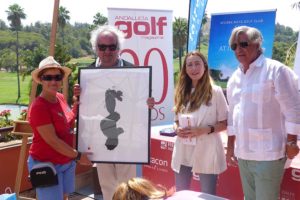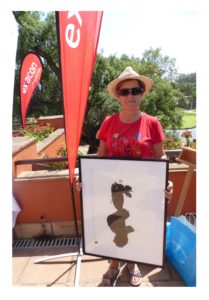 The first three top finishers at Santa Clara in category one were, in order: Antonio Cobo González (41 points), David Currie (41) and José Miguel Rodríguez de Pablo (40). Leading the way in category two was Áarina Budantseva (40 points), followed by Antonio Muñoz Lanzas (38) and José Luis Molina de Carranza (42).
The prize-giving ceremony was presided over by Reyes Pintado representing Santa Clara Golf Marbella, Alejandra Méndez for Exxon, airway+blue director Gabriela Jones, and Andalucía Golf magazine's Antonio Sánchez and Luis Navarro. The day's golf concluded with a cocktail reception in Santa Clara Golf Marbella's magnificent clubhouse.